Ashton Leung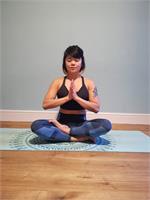 Ashton Leung instructs the following:
A wonderfully relaxing class where restorative yoga and soft supported stretches meet guided meditation.

Most of the class is done at floor level and can be great for de-stressing, learning how to breathe those worries away and focus on beautiful you.




Energise and challenge yourself through a Flex class where you will R1SE towards a peak pose. This class builds lower body strength, a strong foundation for balance, and overall increased flexibility with added heat intensity because we know you like a challenge! Though the pace is great for those newer to yoga, expect a challenge at any experience level through our R1SE and shine 'wildcard' position each session.




A fast-paced, no messing hot class for those who love to sweat and smile! Expect to find power and fluidity through a strong breath driven practice, along with an upbeat soundtrack, challenging sequences and a sense of humour to inspire us as we move off our mat and into the world.